Do you really enjoy good quality food, especially great barbeque? So do we, that's what inspired owner Chris Van Nus to travel down south. I mean waaay down south all the way to  Arkansas to study with Conrad Haskins, World champion Pit-master.  Studying with the master Chris is now able to bring you the true taste of the south right here in B.C. 
"It's about my love of getting back to really good food, not overly prepared. I want to showcase magical flavours that slow, patient cooking can create".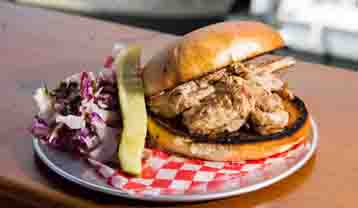 Smoke On The Water sources from local farmers and suppliers for the freshest meats and vegetables and is committed to producing the best Bar B Q experience on the West Coast.
The barbecue shack, as it is commonly called by locals smokes all its meat products on site with real hardwood to create the authentic southern flavours and its signature pulled pork, chicken and brisket sandwiches.  
Recently reviewed by Mia Stansby from the Vancouver Sun "Smoke on The Water rocks… his smoked meats are a drool fest. "

From platters to serve a group to individual sandwiches Smoke On The Water is primarily a takeout place with 14 seats outside overlooking the harbour to relax and enjoy the view and of course awesome food. If you are a boater the shack has the ability to vacuum seal its products for travel so you can enjoy the mouth watering taste at home or away.
Smoke On The Water is a classic Bar-BQ restaurant that just so happens to be situated on the Wharf in the centre of the picturesque town of Gibsons B.C., recently voted the #1 most livable city of its size in the world…just one hour from Vancouver on the Sunshine Coast.

Stop by, pull up a chair and enjoy the best pulled pork, beef brisket and corn bread in the west.